ORDERING BOOKS
FOR RETAIL AND WHOLESALE ORDERS, please call Simon
& Schuster
(our distributor)
at 1-800-223-2336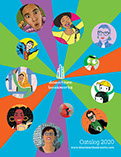 ISBN: 9781941367537
Price: $12.99, $16.99 Can
7.5 in x 9 inches
112 four-color fully illustrated pages
For ages 6 and up
Available now
DC Super Heroes: Super Hero Science
by Jennifer Hackett
What can Superman tell us about force, gravity, and motion? What makes flight possible (other than a cape)? Can science explain how Wonder Woman's plane is invisible? Does Martian Manhunter weigh more on Earth or on Mars? Are there rocks, like Kryptonite, that can make humans sick? How does Aquaman breathe underwater? What is the sound barrier and what happens when The Flash breaks it—and what would he need to eat for breakfast to have enough energy to run that fast?!
DC Super Hero Science

is a clever, clear, action-packed exploration of popular science topics experienced through the lens of DC's beloved super heroes. Plus, it comes with experiments!

REVIEWS
"
DC Super Hero Science

gets everything right."
"This book is a must-have for anyone who wants to learn basic science, and will make a fantastic addition to anyone's library."
— Kendra Reed, AiPT!
"Bright colors, enticing graphics, and solid science make this a great choice for young scientists."
ORDER NOW from
Amazon
ORDER NOW from Indiebound.org
ORDER NOW from
Barnes & Noble
Click on thumbnails to see interior spreads
COMIC BOOK RETAILERS:
Our DC Super Heroes titles are available through Diamond Comics. Please call (443) 318-8500 to place orders or go to the Retailers services site at Diamondcomics.com.
ORDER NOW from bookshop.org