ORDERING BOOKS
FOR RETAIL AND WHOLESALE ORDERS, please call Simon
& Schuster
(our distributor)
at 1-800-223-2336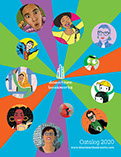 ISBN: 9781935703341
Price: $6.99, $7.99 Can
Paperback/middle grade novel, 5.75 x 8.25, 192 pages
Age 9–12
Available now
The Next Full Moon
by Carolyn Turgeon
The Next Full Moon

by Carolyn Turgeon is our first middle grade novel, and it is a gorgeously told, magical story. Like every 12-year-old girl, Ava, the protagonist, feels like a freak. Unlike every other girl, however, Ava has grown feathers and discovers she's part swan maiden.
About the author 
Carolyn Turgeon is the author of the adult novels
Rain Village, Godmother,

and

Mermaid

.
Review
"Carolyn Turgeon must have a magic wand for a pen—these haunting, dazzling pages turn themselves."—Jennifer Belle on
Godmother
ORDER NOW from
Amazon
ORDER NOW from Indiebound.org
ORDER NOW from
Barnes & Noble
Click on thumbnails to see interior spreads