ORDERING BOOKS
FOR RETAIL AND WHOLESALE ORDERS, please call Simon
& Schuster
(our distributor)
at 1-800-223-2336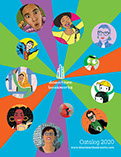 ISBN: 9781935703556
Price: $11.99, $13.99 Can
Hardcover, 8" x 8", 48 pages, die-cut cover with blister pack holding
a REAL SEA STAR and SAND DOLLAR
Ages 6 and up
Available now
Science with Stuff: Sea-sational
by Allyson Kulavis
This amazing undersea exploration sheds light on the most interesting ocean inhabitants. A sea star and sand dollar are awesome extras.
About the author
As the Lead Science Teacher at STAR Education, Allyson Kulavis taught in public, private, and charter schools in California for seven years.
ORDER NOW from
Amazon
ORDER NOW from Indiebound.org
ORDER NOW from
Barnes & Noble
Click on thumbnails to see interior spreads. Description and specs below.
Check out the other books in this series:
ORDER NOW from bookshop.org