ORDERING BOOKS
FOR RETAIL AND WHOLESALE ORDERS, please call Simon
& Schuster
(our distributor)
at 1-800-223-2336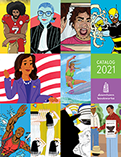 ISBN: 9781941367414
Price: $29.99, $39.99 Can
Box: 12" wide x 7.25" x 1.8" Book: paperback, 7" x 7", 64 pages
Plus: magnifying glass, portable laminated checklist, and activity poster
Ages 4 and up
Available now
PBS KIDS Look and Learn:
Nature Detective
by Sarah Parvis
Any walk outdoors—from a backyard to a local park to true wilderness— turns into an instant adventure for a nature detective! This kit encourages curious children to inspect leaves, bark, seeds, and mud for hints about the world around them and provides fun facts about acorns, pine cones, mushrooms, animal tracks, and other plant and animal leave-behinds.
A 64-page guide to common flora, a sturdy, high-powered magnifying glass, a laminated nature scavenger hunt, and an entertaining activity poster complete the kit.
ORDER NOW from
Amazon
ORDER NOW from Indiebound.org
Click on thumbnails to see interior spreads. Description and specs below.
ORDER NOW from
Barnes & Noble
ORDER NOW from bookshop.org