ORDERING BOOKS
FOR RETAIL AND WHOLESALE ORDERS, please call Simon
& Schuster
(our distributor)
at 1-800-223-2336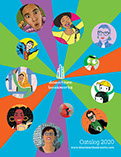 Click on thumbnails to see interior spreads. Description and specs below.
ISBN: 9781941367865
Price: $11.99, $14.99 Can
Hardcover, 7" x 9", 64 pages
Ages 4 and up
Available now
Check out the other book in this series:
​
PBS KIDS Spot the Differences: Around the World
by Sarah Parvis and Georgia Rucker
Fifty irresistible puzzles challenge children to focus, count, and compare pictures to find subtle (and hilarious) differences. Kids will be thoroughly engaged—and they'll hone important skills while they play! In
Around the World

, check out kangaroos multiplying in Australia, tulips transforming in the Netherlands, hot air balloons popping up in Egypt, and more.
ORDER NOW from
Amazon
ORDER NOW from
Barnes & Noble
ORDER NOW from bookshop.org