ISBN: 9781935703273
Price: $9.99, $12.99 Can
4.75 x 9.5, 112 pages
Age 5 and up
Available now
Into the Field Guide: A Walk on the Beach (Book)
by Laurie Goldman
The clear IDs, interesting facts, and beachcombing tips that fill
A Walk on the Beach

will enable readers to experience the beach—from shimmery seashells to magnificent shorebirds—in a whole new way! The treasure box includes: book, mesh bag, bug magnifier. (Book also available as part of Treasure Box, here.)
About the author
Laurie Goldman is a marine biologist and science journalist. She lives on Cape Cod with her husband and two children.
REVIEW
"I love my field guides and I am so happy to include this one in my collection—but more importantly my car—this one will be traveling with me this summer!"
ORDER NOW from
Amazon
ORDER NOW from Indiebound.org
ORDER NOW from
Barnes & Noble
Click on thumbnails to see interior spreads
Also available as part of a treasure box!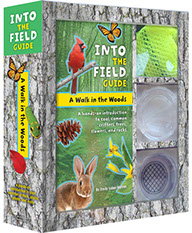 And check out the other treasure book and book in this series!
FOR RETAIL AND
WHOLESALE ORDERS,
please call Simon
& Schuster
(our distributor)
at 1-800-223-2336