ISBN: 9781950587070
Price: $12.99, $16.99 Can
7.5 in x 9 inches
112 four-color fully illustrated pages
For ages 6 and up
Available now
Check out the other book in this series:
​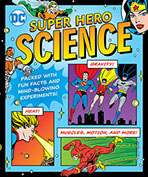 DC Super Hero Math and Tech
by Jennifer Hackett
The world of math and tech has never been more thrilling!
• Master operations with Superman.
• Write code with Green Lantern.
• Compare fractions with Starfire.
• Analyze data with Batgirl.
• Tackle word problems with Wonder Woman.
• Solve tech challenges with Cyborg.
Fun exercises and activities boost brain power.
ORDER NOW from
Amazon
ORDER NOW from Indiebound.org
Click on thumbnails to see interior spreads
COMIC BOOK RETAILERS:
Our DC Super Heroes titles are available through Diamond Comics. Please call (443) 318-8500 to place orders or go to the Retailers services site at Diamondcomics.com.
ORDER NOW from bookshop.org
FOR RETAIL AND
WHOLESALE ORDERS,
please call Simon
& Schuster
(our distributor)
at 1-800-223-2336